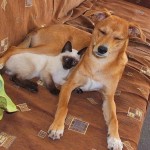 Are you wondering what in the world, world spay day is? World Spay Day is a day that allows animal lovers to come together as a community across the globe to educate and highlight the subject of spay/neuter as a means of saving the lives of companion animals, feral cats and street dogs who might otherwise be euthanize in a shelter or killed on the street.
In the US alone an estimated 6-8 million homeless kittens, puppies, cats, and dogs enter animal shelters a year. Approximately half of these animals are adopted, while the other half face a tragic fate. Approximately 2.7 million pets are put down annually, and of these 2.7 million animals sadly the majority are adoptable great companions.
Spay/neuter is a permanent, 100-percent effective method of birth control for cats, dogs, and rabbits. When animals are spayed or neutered, we ensure that those animals and their offspring will not add to the millions of already suffering animals by continuing to reproduce.
World Spay Day is held each year on the last Tuesday in February – this year's World Spay Day will occur on Tuesday, February 25, 2014.
Please help us educate and reduce animal suffering by check out World Spay Day for more information on spay/neuter and events occurring in your area!