Grooming your pet doesn't necessarily need to take place at the groomer. You can groom your dog at home without the expenses and trouble associated with going to a professional groomer; Jorge Bendersky's guide DIY Dog grooming, From Puppy Cuts to Best in Show, will teach you the ins and outs of home grooming.
"While you can make excuses not to take your dog to the groomer, you have no reason to make excuses for not doing it yourself any longer."  —Cesar Millan
If you are unfamiliar with Bendersky, he is a celebrity dog groomer and stylist in New York City and has been a contestant on the Animal Planet show Groomer Has It, a judge on TLC's Extreme Poodles and an Expert on Animal Planets Dogs 101 among many other media appearances. His book provides you with the knowledge of how to take the best care of your dog, regardless of breed, temperament or age.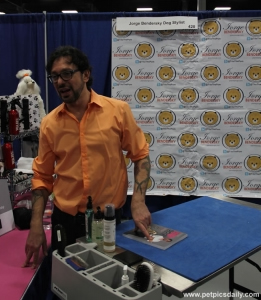 Throughout his book he stresses the importance of grooming and how grooming helps maintain health and provides early detection of possible health concerns. He also reminds readers of how home grooming can bring you and your canine together, and further foster and strengthen that bond that you share. Step-by-step photos lead you every step of the way from how to bathe and trim your dog, to info on how to care for your pets nails, ears, teeth and much more. He gives insightful natural home tips for grooming such as using a drop of olive oil on your pet paws to soften their paw pads, or mixing baking soda into your dogs shampoo to neutralize strong odors, as well as products he uses and swears by. Bendersky even provides helpful and informative tips on how to train, relax and help both you and your pet how to enjoy grooming.
Bendersky's book is recommended and informative for pet owners, grooming students and professional groomers, make sure to grab your copy today!