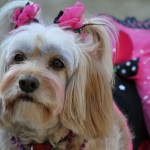 Everyone loves winning, and everyone loves free stuff, so today we're going to teach you the ins and outs of entering and winning a pet photo contest. As a pet owner myself, I know that pictures I take of my dog seem to be the cutest, greatest out there. Unfortunately beauty is in the eye of the beholder and although you think you're dog/cat/bird/fish is the greatest thing since sliced bread, not everyone will feel the same way.
Read the contest requirements: make sure that you take the time to read the contest rules and regulations. Some of the things that you should keep in mind are, is there a certain number of votes that are needed, can I vote multiple times, how will I be notified if I win and when does the contest end. Being as knowledgeable as possible will ensure that you cover all contest requirements as well as what the contest is looking for. Make sure you follow the rules and fine print!
Make Use of Your Dog's Training: the level of training your pet has received has a direct affect on your ability to easily take photos of them. A dog who knows and responds to commands will be easy to direct, while one who has no idea what commands are, will make the photo shoot infinity more difficult and stressful. If you would describe your dog as "rusty" with his commands its best to take the time to remind/teach him or them a few basic commands before attempting to take your pet competition photos.
Let Your Pet be a Pet: naturally your pet doesn't just sit, still, in place when they're awake. Dogs are naturally roamers; they don't remain in one spot for long periods of time, enjoying running and playing. Take the half hour before the pet photo shoot starts to have some fun with your pet, whether it be throwing a ball, cat nip or wrestling on the ground together. When playtime is over you'll find your pet much more well-rested, relaxed and more inclined to sit still for you.
Choose a Remote Location: by choosing a remote location and eliminating outside distractions as much as possible will guarantee you are the center of your pet's attention. As stated above, dogs are naturally roamers – it won't take much to get him curious and eager to find out more. If you're dying to get a great photo shoot of your pet in at the beach or park try and get there early to avoid crowds.
Choose Accessories Wisely: we all love to dress our pets up for photo ops but since animals are easily distracted make sure to think through what props you are using. For example, I would love to dress my dog cooper up as a tennis player because he loves tennis balls. But if I put a tennis ball in front of Cooper I know there's no way he'll be able to sit without playing with it. Alternatively, if a I put a restrictive sweater vest on him, I know I have about 15 seconds at best before he ignores me and wiggles his body out of it.
Quality of Photos: choose your photo's wisely! Yes your pet may be so adorable in a photo but simply put if your pet pic is unfocused or over pixelated it's not going to win. We receive hundreds of unfocused photos, if you're questioning whether its too blurry it most likely is.
Only Pets: these are pet photo contests! We're looking for awesome and unique shots of your pet – unfortunately we aren't looking for a portrait for you and your furry friend, so save those for personal use please.
These tips and tricks will surely help increase your chances of winning, so give them a read, take some notes, and put them to the test by entering our pet photo contest.