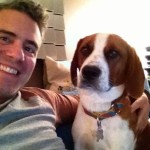 Andy Cohen, celebrity personality on Bravo TV's watch what happens live has become both a first time and new dog owner. Cohen adopted a lovable beagle-foxhound mix through See Spot Rescue who had  in-turn, rescued the pup from a kill shelter in West Virginia. Upon meeting his new rescue pup, Cohen aptly named him "Wacha" after his beloved home team St. Louis Cardinals pitcher, Michael Wacha.
Although never being  a previous dog owner, when asked Cohen replied "I had been thinking about a dog for a while. I just felt like I wanted to open my life up to a dog and I thought rescuing a dog was the right way to go." We are thrilled to hear both Wacha and Cohen are assimilating to city life easily. "He's really behaved," says Cohen. "The first night, he brought me his leash and was telling me, 'I have to pee!' I was like "Wow, this dog is incredible!" We can't wait to see more pictures of Cohen and Wacha's life together,  and can only hope Cohen will have Wacha in costume with him at the Beggin' Pet Parade set to take place next month.
What would you like to see Wacha dressed as at the Beggin' Pet Parade? Let us know in the comments below.