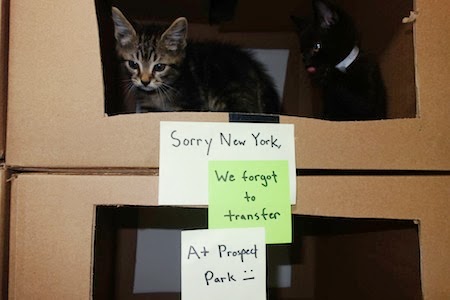 The now infamous NYC subway cats, August and Arthur have been adopted and found a permanent home. Katherine and Keith Lubeley, a Brooklyn couple, decided to adopt them together and make the 2 mischievous felines their own.  
"We had been thinking about adopting rescue cats for a while and specifically wanted two bonded kittens, so it wasn't out of the blue,"
 the couple told New York magazine.According to ABC News, two kittens forced part of New York City's subway system to a halt for nearly two hours in August.
After their subway escapades, August and Arthur went into foster care under Steven Liu, 25, of Bushwick, Brooklyn resident, who fostered the kittens until they were old enough to be adopted into their permanent home in Brooklyn with the Lubeleys.
Images courtesy of Steven Liu