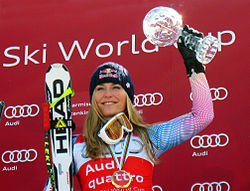 Lindsey Vonn is commonly known for two reasons, being one of the best women's winter athletes or through the fame she has received dating infamous superstar athlete Tiger Woods. But we here at Pet Pics Daily were drawn to Lindsey's story for a different Canine reason.
If you are not yet aware, Lindsey, who holds 17 world titles and the gold metal in downhill skiing from the 2010 Olympics recently resigned from competition at the upcoming Sochi winter Olympics due to a ruptured ligament. Although the announcement of her resignation is heartbreaking for both the athlete and her wide fan base,  we have learned that Lindsey is quickly recovering and has taken solace in the form of a canine friend.
The same week Lindsey announced her withdraw from the upcoming Olympics Lindsey found and adopted Leo a 9 month old pup who was hit by a car, left, and now has 6 pins in his knee. Coincidence? We think not. Together Leo and Lindsey will watch the Olympics and recuperate their injuries, and be "#bumkneebuddies".
Checkout Leo Vonn's recent instagram account for updates and pictures of Lindsey and Leo's adventures!