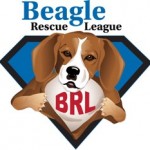 The Beagle Rescue League, Inc. is a non profit organization that was launched in January 2011 by co-founders Patricia Scully and Carolyn Sterner. It is licensed as a breed rescue for the purpose of rescuing, rehabilitating, and re-homing unwanted beagles.
About:
Rescued beagles in The Beagle Rescue League program come from shelters, research facilities and through animal control officers.
With the help of local vets, all dogs in the Beagle Rescue League program are brought up to date on vaccinations, heartworm negative, neutered/spayed and micro-chipped before they leave to their forever homes.
There is no physical facility for The Beagle Rescue League and therefore every dog entered in the program is fostered in a private home and then matched with new owners.
Beagle Info: 
Beagles are bred to hunt, with a tremendous sense of smell. When a Beagle catches a sent, his nose hits the ground and he goes off to follow it. All other senses will be ignored, no matter how stern or loud you yell "COME!", a beagle will not listen and won't come back if he starts running. This does not mean beagles are disobedient but simply put the job of a beagle is to follow their nose.
Beagles roam and running is second nature to this hound, as an owner you must make sure your dog is always in a secure environment because if there is a chance for him to bolt, he will!
Beagles can be very vocal
Beagles are very sociable, people-oriented, and make wonderful family dogs. They are very loving and affectionate, are great with kids and adore cuddling.
Beagles are medium sized (under 30 lbs), don't require lots of grooming, shed minimally and are great companions.
Adoption info and requirements:
Adoptions are concentrated in NJ and Eastern PA areas but exceptions can be made depending on their ability to complete home visits in the area.
Applicants are required to provide both a personal and veterinary reference for current and/or past companion animals.
Applications are reviewed and if complete are assigned to one of the leagues adoption counselors. References will be called.  A telephone interview will be arranged and typically takes approximately an hour. A home visit is not required for every adopter but is made on a case by case basis. If all goes well in the steps aforementioned you will be approved for adoption and the Beagle Rescue League will do their best to match you with a beagle that would do well in your home and has the qualities you specified in your interview. The Beagle Rescue League requires all family members (including currently owned dogs) to travel to the foster home for a "meet and greet" to ensure fit. If the fit is right, the adoption will be executed and the dog will be taken home that same day.
As an adoptive home it is required that any time you are unable to keep your dog, you MUST contractually return the dog to the Beagle Rescue League, Inc.
The Beagle Rescue Leauge, Inc. requires owners to keep them updated on the progress and health conditions of their dogs through the years.
The adoption fee is $250.00, this money reimburses for the veterinary, boarding, and daily living expenses of the dogs.
Visit The Beagle Rescue League, Inc. for more information regarding what they do, the adoption/fostering process and requirements or to make a donation and help save the life of a beagle!