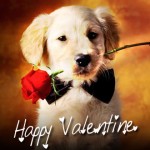 Valentine's Day is quickly approaching and whether or not you have a significant other we have some ideas to make the day even more unique, special and remarkable with your canine friend:
Spend some some quality time with your pet – schedule a "pet spa day" and spoil your pup. I know I love a warm bath, massage and blow out and I'm sure your canine friend would enjoy that just as much as I do.
Try a night away for two – getting out of town with your dog is a fun change of scenery and great way to bond with your canine away from home. Whether you want to go down the road, on a ski trip or somewhere exotic there are a plethora of dog-friendly accommodations for you and your pup to enjoy.
 Dinner and a movie – stress free, easy and an easily attainable way to spend the night with your canine friend. Pick your favorite animal-related movie, cozy up on your couch or in bed with a blanket and both your favorite and your pups favorite treats. Use this night as an excuse to stay in and watch our favorite pet friendly movie, 101 Dalmatians – both you and your puppy will enjoy cost friendly night in snuggling under the blankets.
Retail Therapy – take your dog on a walk to your favorite pet retailer and have him/her help pick out his favorite treats, valentine themed toys, clothing and accessories. If they've been a real price/princess then treat them to a new luxe dream bed for style and the sweetest dreams.
Bake some homemade dog biscuits out of scratch for your loving canine friend. Not only is this cost savvy, but the general consensus is that everything taste better made out of scratch and with love. If baking isn't one of your fortes or in your repertoire, pick up some gourmet treats to fill your puppy's pampered belly – don't worry we won't divulge your secret.
Make sure to checkout and download the useful "Pet First Aid" app for all emergencies that may arise during your adventures, and even pet friendly accommodations in your area. Let us know how you're planning to spend your special day below.