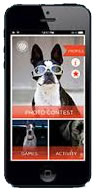 The American Kennel Club has released Woofipedia, an app that brings together the social features that we all love, as well as time passing games and activities. New dog picture contests are featured daily on Woofipedia with themes such as "coolest dogs" and "dog naps" for those social media lovers out there. Users earn WOOF points and badges for participating in the various photo contests, playing games such as "guess the breed" and for activities such as "walking your dog".
A favorite activity featured is the "teach new trick" activity, where the user is rewarded points for teaching their dog new tricks. I know I can't remember enough from puppy boot camp way back in the day to teach my dog new tricks, but lucky for me Woofipedia has it covered with step by step how-to instructions – your dog could be playing dead too in no time!
Oh, and the best part is this app is free, and can be downloaded from the app store.
Key features of the Woofipedia app:
Capture picture-perfect moments and enter them in daily photo contests to win prizes
Research dog breeds and find the perfect match fro you and your family
Play games to teach your dog new tricks
Learn and track exercise
Share your favorite photos with friends and family on social networks like Twitter, Facebook and Instagram